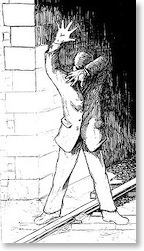 Ghost, Horror & Mystery Stories

The Signalman
by Charles Dickens
A man was standing by the red light near the tunnel. ''Look out!" he was calling. "Hello! You down there! Look out!''


'What did you see?'


'A man standing by the red light near the tunnel. His left arm was across his face but his right arm was being waved. This way.'

He moved his own left arm to show me. ''Look out!" the man was calling. "Hello! You down there! Look out!"'


Is there really a ghost on that lonely railway line? What is he trying to tell the signalman? And why does his hand cover his face?

The Signalman: (new print friendly PDF with glossary and activities)


Print friendly PDF version has a glossary, activities and notes. With links to text & audio recording of original.

ESL Reading level guide - Intermediate (some unfamiliar vocab but within narrow range). Length: 2,535 words



The Body Snatcher by Robert Louis Stevenson
A strange tale of grave robbing and murder in 1820's Edinburgh.

ESL Reading guide - Intermediate (long but story easy to follow). Length: 3,374 words



The Marble Finger by Edith Nesbit
Why do the locals fear the two marble statues in a country church?

Classic horror story from the writer of 'The Railway Children.

ESL Reading level guide - Pre-Intermediate

The Same in Japanese

The ghost of old Japan haunts modern Tokyo.

Length: 1,446 words
(Flesch Reading Ease 88.9 Flesch-Kinkaid Level 4.9)

ESL Reading guide: more descriptive and atmospheric than story-based - Upper Intermediate

The Mystery of the Mary Celeste



In 1871 a deserted ship is found drifting in the sea. The captain and the crew have disappeared and nobody knows what has happened.

Length: 926 words

(Flesch Reading Ease 79.7 Flesch -Kinkaid Level 2.9)
ESL Reading guide - story will be familiar to most readers. Lower intermediate+

A Christmas Carol by Charles Dickens

ESL Reading level guide - Advanced (shortened version of opening but with some unfamiliar vocabulary)


ESL Reading receives no external funding or institutional support. Please help support future development by making your Amazon purchases here:


Amazon.com (US)
or on the
Recommended Readers
pages:


There's no extra cost to you - and a big benefit to the site!


ESL Reading
for English language learners

Free graded reading to help you learn English